VisionProPOS Architecture
VisionProPOS is available in following models:
Local
Single Computer Installation

If you are going to install the software on one computer only, perform Full server install.

Multi-Computer Installation

For the multi-computer (Network) edition you must first decide which computer will be your server/main station. The server is the computer that will hold your database and the computer to which all the other computers (Client computers) will connect.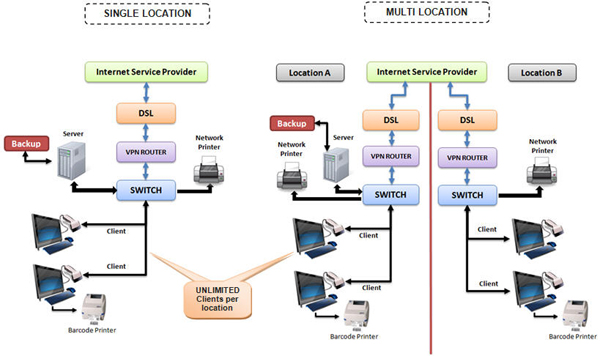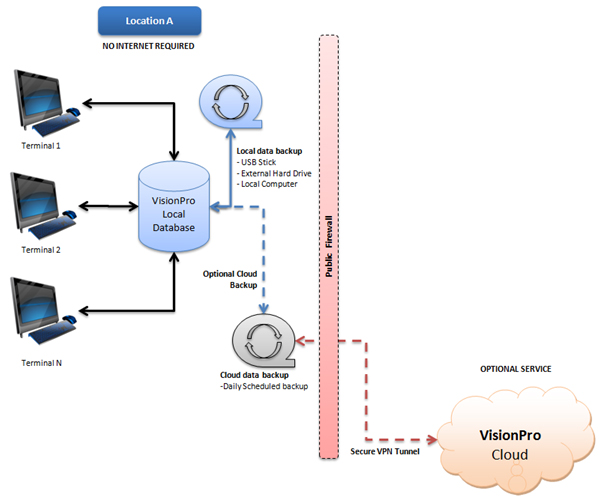 Hybrid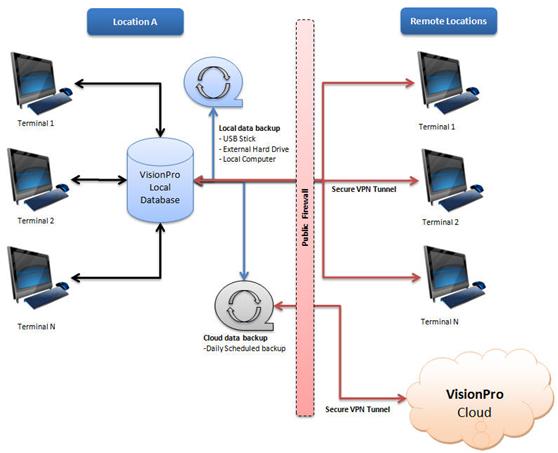 Cloud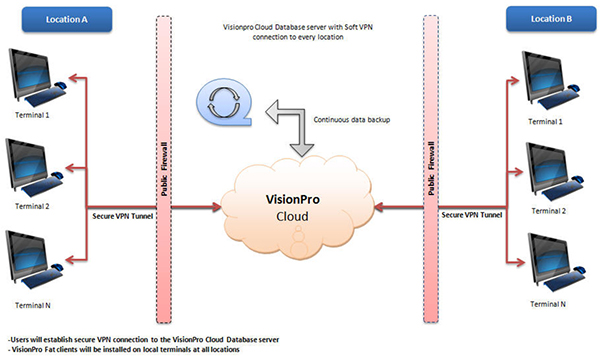 Hardware Requirements
Server Specifications

Specifications for a new server computer for VisionPro Software

VisionPro is built on Microsoft SQL Server 2008 R2 Standard and can scale to any size. Microsoft SQL Server is used by small to large businesses. More information on Microsoft SQL Server 2008 R2 can be found on their website at http://www.microsoft.com/sql. VisionPro can be deployed on the Microsoft's state-of-the art Web Virus and Spyware Free Terminal Services Network, Citrix or Virtual Private Network (VPN).

System Requirements
Computer/Processor :

Server: AMD, Intel Pentium, Dual Core, Core2Duo, I3,I5, I7(recommended) or above
Client: AMD, Intel Pentium, Dual Core, Core2Duo, I3,I5(recommended), I7 or above

Supported Operating Systems (32 and 64 BIT) : Microsoft Windows 10 (recommended), Microsoft Windows 8 (recommended), Microsoft Windows 7, Windows Vista, Windows Server 2003 and above & Windows Tablet PCs

Software : Acrobat Reader for viewing PDF documents e.g. Invoices, Estimates, lab orders etc., Microsoft Word for Letters and Labels (optional). Software ships with SQL Server Express Edition which is limited to 4GB of data. A database exceeding this limit will need to be upgraded to one of the following SQL Server Editions: Workgroup, Standard, or Enterprise.

Hard Disk :

Server: 15 GB or more
Client: 1GB or more

Memory :

*Server: 4 GB or more (recommended 8GB or more)
Client: 2GB or more (recommended 4GB or more)

Backup : Any removable storage media e.g. Memory Key, CDR-W, Zip, External Hard Drive (recommended) or Visionpro Online Backup Service (recommended)
*NOTE: Please contact us for enterprise solution server specs.

Additional hardware requirements for LAN Setup:
DSL modem to connect to the Internet
Router to connect to the modem
8 port or larger switch to connect the local computers
On new systems - use Cat 6 Ethernet cables.
Battery backup - UPS for the server, LCD monitor, modem and router of at least 20 minutes
BACK UP - VERY IMPORTANT! Use one of the following:
16 GB USB Memory stick or
External hard drive
Tape back up or
VisionPro Online Backup Service (Recommended)
Make a back up of your VisionPro Software nightly and remove from your premise. You can instruct our Software to automatically make back-ups on a regular basis. It is highly recommended to use our Online backup system where it automatically backup your database and all other date online regularly. Please contact us for more info.
Wireless network connections pose a greater security risk for database software, speak to your network specialist before considering.
Please do not hesitate to consult with one of our specialist before doing the installations. Please contact us for more info.