Support Info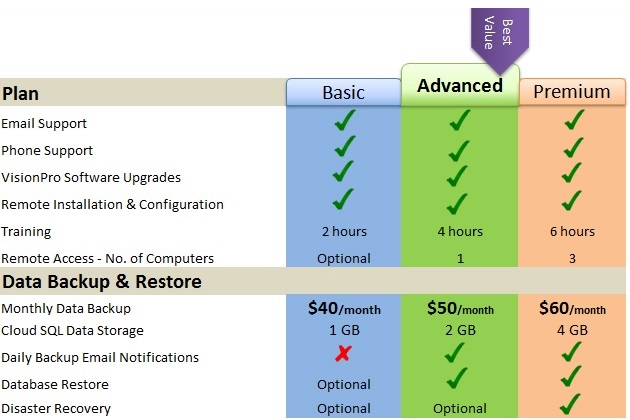 Data Backup

Remote Data Backup Per Location

Fully automated process with backups held on disk for rapid file restoration
Secure online transfer of fully encrypted data to an offsite data center, ensuring regular backups are stored safely and remotely
Sound basis for business continuity planning - whatever happens, your data is safe.
Cost-effective solution with an all-inclusive monthly service charge
Immediate access to restore data when you need it

* One Time setup Fee $100.00 apply for initial setup. This will appear as handling charges on the Invoice.

Backup Monitoring Per Location

Daily monitoring of Data Backups
Provide E-mail report for success or failure of the backups
Sound basis for business continuity planning - whatever happens, your data is safe.
Full Backup troubleshooting and resolution
Fully managed service





Hardware
Barcode Scanners - Visionpro works with all the barcode scanners but we recommend following scanners.

Datamax Barcode Printer E-Class Mark III : The E-Class Mark III is a family of compact desktop thermal printers that are designed for a wide variety of industries and applications that require a reliable and cost effective barcode printer. Datamax-O'Neil applied its industrial printer expertise to provide customers with an entry level printer that has the features and reliability normally found in more expensive printers. The E-Class Mark III is affordable to own, easy to use and economical to operate.





Turn Key Solution
Custom Turn Key Solution
We can also help you design and architect the infrastrucure, implement solutions and can also help you provide a turn key solution whereby our professionals will build the server and workstations at our location and ship those out to you and all you have to do is plug in the system and you will be fully up and running.

Please contact our sales department for more details.